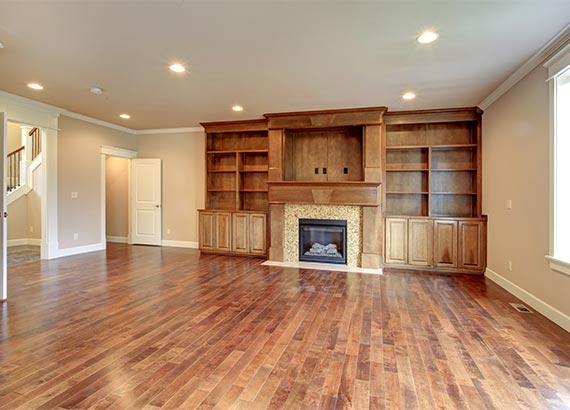 Hardwood Floors
Are you looking to add some style and character into your home? Well, look no further. Hardwood is the perfect flooring to achieve the style you are looking for. With styles ranging from rich oak, maple, or something light in color, we have it all. We offer a variety of styles, widths, and finishes and have what you need to achieve the perfect feel. Take a look at some of our hardwood flooring samples or just come by and take a look.
Commercial & Residential Installation
Improves Home Value
Custom Installs
Good for Allergies
Easy to Clean
Wood Crafting
Walk into any room in your house and what's the first thing you feel? No part of your home provides more physical contact than the floor beneath your feet. There are a variety of unique crafting styles to give your flooring character and beauty.
Hand Scraping
A method of floor finishing passed down by artisans who smoothed floors with hand tools in the days before power tools. It imparts an aged quality to the floor, adding texture and depth. Hand Scraping can help hide some signs of wear.
Distressing
A heavier level of hand texturing that includes deeper scraping, chatter marks, and other signs of wear. Distressing gives the appearance of a timeworn floor for maximum visual interest.
Wire Brushing
A technique used to enhance the natural texture of the wood. The softer grain from the open pores is removed, highlighting the wood's grain pattern. Wire-brushing allows for the application of more complex multi-tone color effects.
Beveled Edges
Emphasize each plank and add visual interest, especially in floors with random widths and extremely wide planks.
Get A FREE Estimate
Do you need new flooring? We got you covered! Call us today for a FREE estimate.